Broke?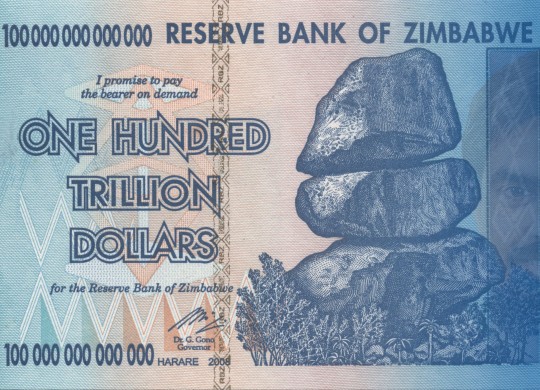 You thought you were broke? Zimbabwe has only $217 left!
The other week, Zimbabwe's Minister of Finance, the Hon. Tendai Biti confessed that his nation had only US$217 (GB£138) left in its coffers after its civil servants had been paid.
Therefore, argued Mr. Biti, elections, due later this year, would not be held.
Nice excuse! The current President, Robert Mugabe, is widely acknowledged to be a "repressive authoritarian responsible for human rights abuses and severe economic decline." The dude has been in office since Zimbabwe (erstwhile Rhodesia) gained independence from Great Britain in 1980.
Thankfully, according to Mr. Biti a few days later, $30 million of revenue has since come in.
But then again, BBC News Africa noted that Zimbabwe needed $200 million (£127 million) to conduct the election. With only a bit over 10% of that in hand now, one has one's doubts ….
Scholars who have studied these esoteric matters report that Zimbabwe experienced the first "hyperinflation" of the 21st century. Technically, this is a rapidly accelerating increase in the creation of paper money that is not supported by a commensurate growth in the output of goods and services. Civil wars, the confiscation of private farms and property led, quite naturally, to decrease in production, and it all culminated in this volatile situation. Prices rose and currency lost its value.
The peak month of inflation in Zimbabwe was in November 2008: 6.5 sextillion percent! Folks, that is 65 followed by 20 zeros.
Looks like this: 6,500, 000, 000, 000, 000, 000, 000%
And you thought you were in bad shape?
Zimbabwe, understandably, abandoned its currency, the Zimbabwean Dollar—that even had Z$100, 000, 000, 000, 000 notes (that's Z$100 trillion)!—soon thereafter, in 2009.
As of today, the nation still doesn't have a currency of its own. Foreign currency rules.
But Mr. Biti ain't giving up. "We're in a challenging position, we're a small economy and we've got huge things to be done but the minister for finance of Greece has an even worse story," he told BBC the other day.
I wish him luck!
To a church struggling to survive in a worldly and antagonistic culture, Jesus Christ once said:
"I know your tribulation and your poverty (but you are rich)."
Revelation 2:9
What a paradox! What were their riches?
What are ours? Assets, portfolios, cars, houses, vacation homes, salaries?
God thinks not! He measures wealth in terms of a ripening, maturing character, a faith more precious and gold, wisdom more priceless than rubies, adornment more valuable than anything we can put on outside.
Listen, my beloved brethren:
did not God choose the poor of this world
to be rich in faith …?
James 2:5
The Bible exhorts us to measure wealth differently.
The wealth of knowing God and his will in Scripture …
Take my instruction and not silver,
And knowledge rather than choicest gold.
Proverbs 8:10
The wealth of character found praiseworthy by God …
[Let your adornment be]
the hidden person of the heart,
with the imperishable quality of a gentle and quiet spirit,
which is precious in the sight of God.
1 Peter 3:4
The wealth of sacrificial deeds …
… do good, be rich in good works,
be generous and ready to share.
1 Timothy 6:18
Jesus said:
Do not store up for yourselves treasures on earth,
where moth and rust destroy,
and where thieves break in and steal.
Matthew 6:19
Like the Z$, every other currency, whether it be the $, the £, or the ¥—they will all evaporate.
So, Jesus advised …
… store up for yourselves treasures in heaven ….
Matthew 6:20
Be rich!