Calm!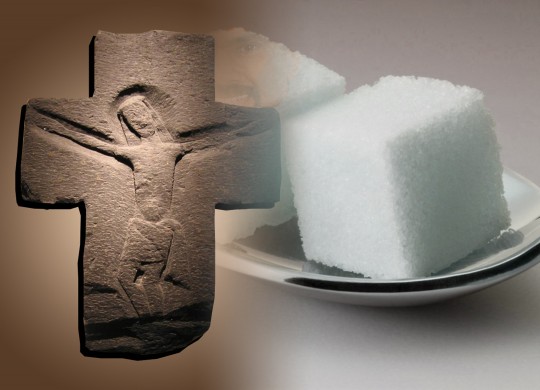 A group of scientists from the University of California, Davis, and from University of California, San Francisco, suspect that they've found a way to quiet stress signals in the brain.
Eat sugar!
(Of course, I knew that all along, and agree heartily, particularly when aforementioned sugar is found in the species of health food called cheesecake! In fact, I'm pretty stressed out right now. Hmmm ….)
These folks conclude that because of this property of sugar, one can become hooked on it.
(I knew that, too. "Comfort" food, right?)
All published for your reading pleasure and edification in the Journal of Clinical Endocrinology & Metabolism as "Excessive Sugar Consumption May Be a Difficult Habit to Break: A View From the Brain and Body."
It was a pretty small experiment, and employed only 19 women, who obligingly consumed three beverages a day that either had sugar or aspartame. MRIs of the subjects' brains showed that sugar, but not aspartame, triggered activity in the part of the brain that reacts to stress. Apparently sugar interrupted the response of the hippocampal region of the brain and decreased the production of cortisol, a stress hormone.
Noted senior author Kevin Laugero:
The findings suggest an explanation of how, mechanistically, sugar may positively reinforce its habitual consumption in people experiencing chronic stress."
The women were artificially stressed out by having to complete "impossibly difficult math problems in their heads." Those who consumed sugary drinks were cool, calm, and collected. Unlike the rest who were hyper, haggard, and hysterical. (That's my interpretation.)
No wonder folks under stress make "indulgent choices," said psychologist Julie Rish of the Cleveland Clinic, who was, not involved with the study:
People don't crave carrots or celery, they crave chocolate or ice cream."
(Yup!)
She suggested short-circuiting these stress-related cravings by taking a walk.
(Yeah, right! Gimme some cheesecake!)
And, she said, it's to keep tempting treats out of the house.
(What! Heresy!)
Keeping a positive environment makes it harder to make an unhealthy choice and it also helps you to delay a response to the craving."
I agree with that. Positive environment. Like trusting God.
The steadfast of mind You will keep in perfect peace,
Because [s]he trusts in You.
Isaiah 26:3
When I am afraid, I will put my trust in You.
In God, whose word I praise, In God I have put my trust;
I shall not be afraid. What can mere man do to me?
Psalm 56:3–4
We have a God who cares!
… casting all your anxiety on Him, because He cares for you.
1 Peter 5:7
So …
Be anxious for nothing, but in everything by prayer and supplication with thanksgiving
let your requests be made known to God.
And the peace of God, which surpasses all comprehension,
will guard your hearts and your minds in Christ Jesus.
Philippians 4:6–7
Let's go the real stress Reliever, our Lord Jesus, who said:
"Come to Me, all who are weary and heavy-laden, and I will give you rest.
Take My yoke upon you and learn from Me, for I am gentle and humble in heart,
and you will find rest for your souls."
Matthew 11:28–29
And lead a fruitful life!
Blessed is the man who trusts in the LORD And whose trust is the LORD.
For he will be like a tree planted by the water, That extends its roots by a stream
And will not fear when the heat comes; But its leaves will be green,
And it will not be anxious in a year of drought Nor cease to yield fruit.
Jeremiah 17:7–8