Depraved!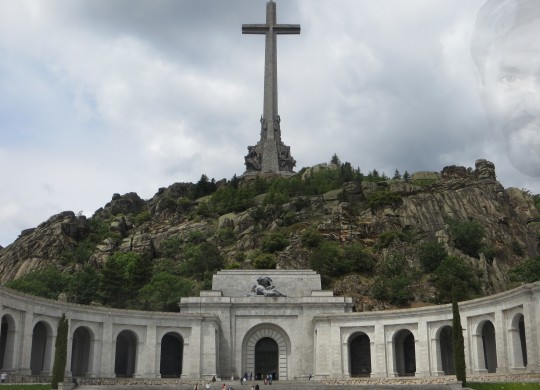 The Valle de los Caídos ("Valley of the Fallen") is located in the municipality of San Lorenzo de El Escorial, about 40 miles northwest of Madrid, and covers about 3,500 acres. It comprises a Catholic basilica and a burial place for the 40,000 who died during the Spanish Civil War (1936–1939). The most striking part of the whole construction is the 500-foot high cross on a granite outcrop over the basilica; the cross is visible for miles around, the tallest memorial cross in the world. So the church is called Basílica de la Santa Cruz del Valle de los Caídos. Also spectacular is the Pietà sculpture atop the entrance to the basilica.
The dimensions of this underground basilica, completely hewn into the mountainside, actually beats St. Peter's Basilica in Rome. To avoid any such competition, a partition wall inside the church separates a section smaller than the Roman structure. And only that smaller part was consecrated by Pope John XXIII in 1960. A sizable entryway remains unconsecrated!
Interesting notion: partially consecrated. Partially holy. Is there such a thing? If you make a 10-egg omelet with 9 good eggs and 1 bad one, is that a partially good omelet?
The doctrine of total depravity denotes that man's failure is total—it has affected every facet of us humans.
My body is sin-enslaved.
… our body of sin ….
Romans 6:6
My mind is sin-darkened.
… futile in their speculations,
and their foolish heart was darkened.
Romans 1:21
My emotions are sin-stained.
God gave them over to degrading passions.
Romans 1:26
My will is sin-seduced.
Therefore do not let sin reign in your mortal body
so that you obey its lusts.
Romans 6:12
Every part of us is affected—we are totally depraved—not that we're as bad as we could be.
Let me give you an analogy.
My body is totally sick. My brain: I am at the age where I'm having trouble with proper nouns. I use "whatchamacallit" and "whatshisname" a lot. But it could be a lot worse—my brain could be totally shot and I could be in a coma. I'm not. My eyes—I am having trouble seeing things these days. But it could be a lot worse—my eyes could be totally shot and I could be blind. I'm not. My cardiovascular system: my cholesterol is high and I'm on medication. But it could be a lot worse—my heart could be in failure and I could be deathly ill. I'm not. My skin: It is getting those blotches and wrinkles, and my hair is turning grey. But it could be a lot worse—I could be having dreadful melanomas and my hair could all have fallen out. But they haven't.
You see, every facet is affected and afflicted, but not every facet of me is as bad as it could be. That's total depravity. I'm totally depraved, means every part of me is tainted and sin-spotted. But I'm not as bad as I could be.
The consequence of total depravity is that we are unable to extricate ourselves from this desperate condition by anything we can do.
That's why God's grace was necessary in order for us to be saved.
For by grace you have been saved through faith; …
it is the gift of God; not as a result of works,
so that no one may boast.
Ephesians 2:8
For all who believe in the Lord Jesus Christ as their only God and Savior, salvation is free.
… whoever believes in Him shall not perish,
but have eternal life.
John 3:16
Totally depraved, yes. But now totally saved!