Disease?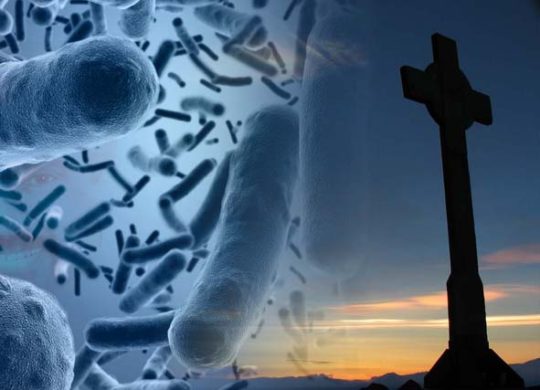 In 1943, at least 10,000 Italian Jews were sent to concentration camps, where most perished.
But some Jews in Rome were saved. By a disease: Il Morbo di K ("Syndrome K")!
Syndrome K was the brainchild (and concoction) of Dr. Adriano Ossicini, who described it as a deadly, and highly contagiosissima disease that was supposed to be neurological in origin. One would apparently go into convulsions, paralysis, dementia, and ultimately die from asphyxiation. Ossicini, by the way, was a psychiatrist!
The good doctor was working in the Ospedale Fatebenefratelli ("You Do Well, Brothers" Hospital) just across from the Jewish Ghetto in Rome. A few dozen Jews took refuge in the Catholic institution when the Nazis raided the region on Oct 16, 1943. They were given the "dangerous" diagnosis. "Patients," including children were asked to cough vigorously when soldiers passed through the wards.
The suspicious diagnosis subsequently dissuaded Nazis from entering the hospital.
Said Vittorio Sacerdoti, a Jewish doctor working at Fatebenefratelli under a false name:
The Nazis thought it was cancer or tuberculosis, and they fled like rabbits."
Syndrome K saved Sacerdoti's 10-year-old cousin, Luciana.
More than half a century later, in 2016, Fatebenefratelli was designated a "House of Life" by the Raoul Wallenberg Foundation, an organization that honors acts of heroism during the Holocaust. Several of the non-Jewish physicians were also recognized by the Holocaust remembrance institution Yad Vashem as "righteous among the nations."
The then 96-year-old Ossicini said:
Syndrome K was put on patient papers to indicate that the sick person wasn't sick at all, but Jewish. We created those papers for Jewish people as if they were ordinary patients, and in the moment when we had to say what disease they suffered. It was Syndrome K, meaning 'I am admitting a Jew,' as if he or she were ill, but they were all healthy."
It was Ossicini's idea to call it Syndrome K after Kesserling (Albert Kesserling, a German commander, oversaw the occupation of Rome) and Kappler (SS Chief Herbert Kappler was chief of police in Rome, and a ruthless killer). "K" hinted to the Germans that it was Koch's disease, aka tuberculosis, lethal in those days. Quite appropriate, Ossicini felt, to label a deadly contagion for two Nazi thugs.
Confessed Ossicini:
The lesson of my experience was that we have to act not for the sake of self-interest, but for principles. Anything else is a shame."
A "disease" that saved lives. A happy ending, in days when these were few and far between. Made all the more striking when set in the backdrop of Italy's own anti-Semitic laws at the time.
A "disease" that saved lives? Once, Someone took on my deadly "disease" and saved my life!
Surely our griefs He Himself bore, And our sorrows He carried;
Yet we ourselves esteemed Him stricken, Smitten of God, and afflicted.
But He was pierced through for our transgressions, He was crushed for our iniquities;
The chastening for our well-being fell upon Him, And by His scourging we are healed.
Isaiah 53:4–5
Not Syndrome K, but the eternally lethal condition of sin that afflicts every human.
All of us like sheep have gone astray, Each of us has turned to his own way;
But the LORD has caused the iniquity of us all To fall on Him.
Isaiah 53:6
He took on our sin and paid its price.
He made Him who knew no sin to be sin on our behalf,
so that we might become the righteousness of God in Him.
2 Corinthians 5:21
For all who believe in Jesus Christ as their only God and Savior, the cure is here! Someone else's "disease" saved us!