Dislike!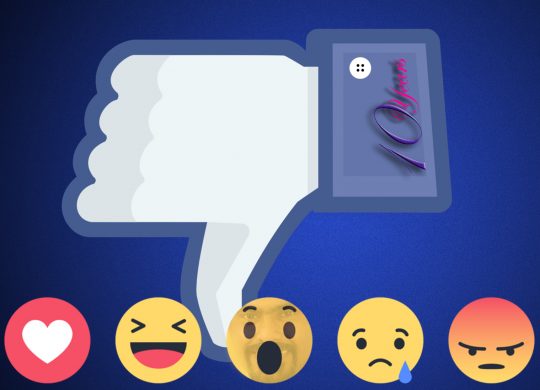 For years Facebook users have clamored for a "dislike" button to be paired with its "like" counterpart. Finally, it seemed, Zuckerberg and Co. had listened to their 1,650,000,000 active monthly users.
Announced CEO Mark Z. last September:
I think people have asked about the dislike button for many years. Today is a special day because today is the day I can say we're working on it and shipping it."
While up and down voting scheme is a fixture of the online news forum Reddit, FB only offered users—thus far—the option of "liking" a post, and commenting on it and sharing it.
This demanded feature makes sense. Not everything is likable. Not everything is positive. Not everything is appetizing.
But there's a lot that falls in between "like" and "dislike." While someone sharing the news of a promotion or a new baby can win a "like," what do you do with a post that mourns the loss of a loved one or getting laid off? You can't just "like" the post, and even if you could, you couldn't simply "dislike" it either.
Zuckerberg conceded:
What they really want is the ability to express empathy. Not every moment is a good moment."
So, a month later, FB rolled it out. But no, no "dislike" button.
If you hold a click on the "like" button, you are offered a number of different choices: a heart, a laughing face, a sad face, an angry face, and a "wow"-face. Nope, no "dislike" button with a thumbs-down.
Said Facebook's Chief Product Officer, Chris Cox:
Today we're launching a pilot test of Reactions — a more expressive Like button. As you can see, it's not a 'dislike' button, though we hope it addresses the spirit of this request more broadly. We studied which comments and reactions are most commonly and universally expressed across Facebook, then worked to design an experience around them that was elegant and fun."
And Geoff Teehan, Director of Product Design at FB:
This might seem like a pretty straightforward task: Just slap a thumbs down next to the Like button and ship it. It's not nearly that simple though. People need a much higher degree of sophistication and richness in what choices we provide for their communications. Binary 'like' and 'dislike' doesn't properly reflect how we react to the vast array of things we encounter in our real lives."
Maybe.
Maybe Zuckerberg was against it all the time. In fact, a year ago he'd declared:
Some people have asked for a dislike button because they want to be able to say, 'That thing isn't good.' That's not something that we think is good. We're not going to build that, and I don't think there needs to be a voting mechanism on Facebook about whether posts are good or bad. I don't think that's socially very valuable or good for the community to help people share the important moments in their lives."
And so, no "dislike." You ain't permitted to dislike anything.
Listen, even God dislikes certain things.
There are six things which the LORD hates, Yes, seven which are an abomination to Him:
Haughty eyes, a lying tongue, And hands that shed innocent blood,
A heart that devises wicked plans, Feet that run rapidly to evil,
A false witness who utters lies, And one who spreads strife among brothers.
Proverbs 6:16–19
And so we, his children are expected to dislike those things as well.
Hate evil, you who love the LORD,
Psalm 97:10
Abhor what is evil; cling to what is good.
Romans 12:9
Yup, we need a "dislike" button!