Eyes!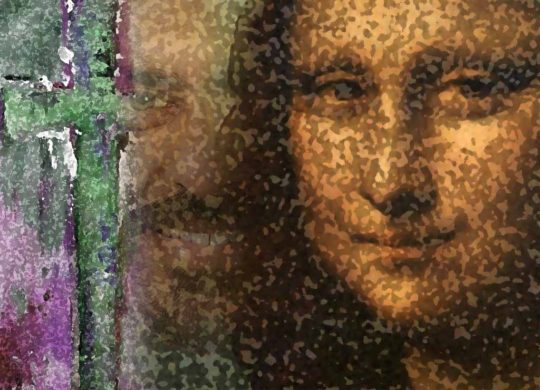 The title of a study caught my attention last week: "Evidence That Leonardo da Vinci Had Strabismus," published in the Journal of the American Medical Association: Ophthalmology, by Christopher Tyler from the City University of London.
Strabismus is the misalignment of the eyes. 1 in 25 people have this condition. There are different types of the disease: when one or both eyes are turned inward it is "esotropia"; when one or both eyes are turned outward, it is "exotropia."
Our man, Leonardo di ser Piero da Vinci (1452–1519), the Mona Lisa guy, Dr. Tyler speculates, had exotropia. Tyler looked at the bronze sculpture of David and found a misalignment of the subject's eyes. He proceeded to study other works of the maestro, analyzing the direction of the gaze in two sculptures, two oil paintings and two drawings.
Looking at his work, I noticed the pronounced divergence of the eyes in all of his paintings."
Not all the works by da Vinci are self-portraits, but the man specified in his own writings that any portrait work by a painter reflects the artist's own appearance.
Tyler's results showed that da Vinci had a tendency towards exotropia, with one eye –10.3° outward when relaxed (supported even by the recently identified da Vinci painting Salvator Mundi). The contrast with the regular vision of his other eye apparently helped him develop a strong understanding of three-dimensional objects and allowed him to create those precise shadings for which he is famous.
Of course, one cannot be absolutely sure, but Tyler is convinced.
Da Vinci's exotropia allowed him to see the world from a different angle. What he was looking at would look more like a flat canvas than like for us a three-dimensional screen. This made it easier to translate things onto the canvas."
Research in this vein has also suggested that other grand masters like Rembrandt, Degas, and Picasso, too, had all kinds of eye misalignments.
Tyler again:
Da Vinci is such a compelling figure historically that it is very interesting to explore the roots of his genius."
And all due to exotropia! Who'd've guessed!
Indeed, Jesus did say:
"The eye is the lamp of the body; so then if your eye is clear, your whole body will be full of light.
But if your eye is bad, your whole body will be full of darkness."
Matthew 6:22–23
So the lamp that are the eyes must shine on things that are godly.
I will set no worthless thing before my eyes.
Psalm 101:3
And the Psalmist appeals to God:
Turn away my eyes from looking at vanity, And revive me in Your ways.
Psalm 119:37
And instead …
Open my eyes, that I may behold Wonderful things from Your law.
Psalm 119:18
Only One is worth looking upon:
One thing I have asked from the LORD, that I shall seek:
That I may dwell in the house of the LORD all the days of my life,
To behold the beauty of the LORD And to meditate in His temple.
Psalm 27:4
And so, we run the race …
… fixing our eyes on Jesus, the author and perfecter of faith, who for the joy set before Him endured the cross,
despising the shame, and has sat down at the right hand of the throne of God.
Hebrews 12:2
I pray that the eyes of your heart may be enlightened, so that you will know what is the hope of His calling,
what are the riches of the glory of His inheritance in the saints!
Ephesians 1:18