Fatherhood!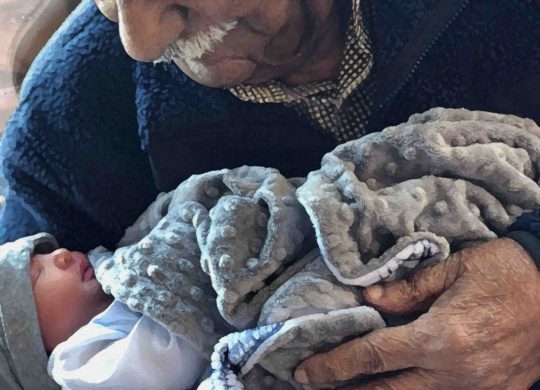 The other day, there was an addition to my family. Dad became a great-grandfather; my brother, a grandfather; and my older nephew, a father—all to a newborn young laddie named Levi. The fourth generation!
And nice timing—he made it during the Advent season!
Fatherhood!
In fact, it is from the First Person of the divine Trinity, God the Father, that …
… every family [or "fatherhood"] in heaven and on earth is named.
Ephesians 3:15
The fatherhood of the Father includes various filiations—different "kinds" of children, so to speak, with different kinships.
He is, firstly, Father over all creation, by virtue of being the Creator of the universe.
Of spirits:
Furthermore, we had earthly fathers to discipline us, and we respected them;
shall we not much rather be subject to the Father of spirits, and live?
Hebrews 12:9
Of lights:
Every good thing given and every perfect gift is from above,
coming down from the Father of lights.
James 1:17
Of angels—it is said that at creation …
… the morning stars sang together
And all the sons of God shouted for joy?
Job 38:7
Of all mankind (in the sense of his being Creator of all):
… one God and Father of all who is over all and through all and in all.
Ephesians 4:6
God the Father is, secondly, Father of the nation Israel, his chosen people through whom came the Messiah, the Lord Jesus Christ.
"I will make them walk by streams of waters, On a straight path in which they will not stumble;
For I am a father to Israel."
Jeremiah 31:9
Thirdly, in a different and inscrutable sense, God is the Father of the Lord Jesus Christ, though not implying derivation or inferiority or subsequence in time of origin, but rather a relationship.
Blessed be the God and Father of our Lord Jesus Christ!
2 Corinthians 1:3; Ephesians 1:3; 1 Peter 1:3
God the Father is also, fourthly—and particularly pertinent to Christians—the Father of all believers, who have placed their trust in Jesus Christ as their only God and Savior.
For all who are being led by the Spirit of God, these are sons of God.
For you have not received a spirit of slavery leading to fear again,
but you have received a spirit of adoption as sons by which we cry out, "Abba! Father!"
Romans 8:14–15
For you are all sons of God through faith in Christ Jesus.
Galatians 3:26
But as many as received Him [Jesus], to them He gave the right
to become children of God—to those who believe in His name.
John 1:12
In an unprecedented way, believers have become, in Christ, the children of God.
See how great a love the Father has bestowed on us,
that we would be called children of God.
1 John 3:1
And here's part of Paul's non-stop sentence as he cannot stop praising God as Father:
Blessed [be] the God and Father of our Lord Jesus Christ,
who has blessed us with every spiritual blessing … in Christ,
because He chose us in Him before the foundation of the world,
that we may be holy and blameless before Him;
in love He predestined us for adoption as sons, through Jesus Christ, unto Himself,
according to the good pleasure of His will, for the praise of the glory of His grace
[with] which He engraced us in the Beloved,
in whom we have redemption through His blood, …
according to the riches of His grace which He lavished on us.
Ephesians 1:3–8
Blessed be the Father, indeed!