Genesis 26:34−28:9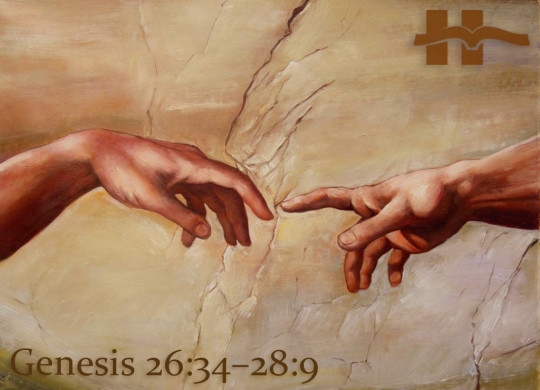 Deception to obtain divine blessing, rather than trusting God to secure them, only results in catastrophic fragmentation of the community.
This well known narrative depicts four family members, each in his/her own way manipulating others, engaging in machinations to direct divine blessings into the direction he/she wants.
Isaac's culpability is clear. His summoning of only one of his two sons, Esau, is a major faux pas, especially since they were twins. And he must have been aware of the oracle received by Rebekah in Gen 25:23; he ought not to have sought to bless Esau; certainly not in the absence of the other son.
Rebekah's culpability is no less significant than Isaac's; her initiation and execution of the plot to deceive Isaac stands on its own. While Esau is pointedly called "his [Isaac's] son," 27:5, Jacob is labeled "her [Rebekah's] son," 27:6, 17. Each parent seems to have had his/her favorite. Of course, the reader had been warned of this partiality: 25:28 informed us that Isaac loved Esau, and that Rebekah loved Jacob. All of this has riven the family asunder.
Esau's own culpability is emphasized, too. His decision to marry two women in the same year (26:34), suggests that he has not curbed his instinct for instant gratification. Esau's mistakes are thus multiplied: disregarding parental opinion, he opts for exogamy, and he prefers polygamy. Rebekah confesses later that she "loathes" living, because of the "daughters of Heth"—she does not deign to call them "wives of Esau" (27:46).
Jacob's culpability needs no expatiation. He lies twice, in 27:19, 24: he is neither Esau, nor the firstborn, as he claimed to Isaac. In the process, Jacob also takes the name of Yahweh in vain: "Yahweh, your God, caused it to happen to me" (27:20), as he explains to Isaac the reason for the swift success of his "hunt." And all this while embracing his father (27:26–27).
Rather than trust God to sovereignly disburse his blessings to his people, each individual in this pericope is conspiring against, and cheating, the others. Each one has his/her own ideas as to whom divine blessings should go, and how, and when. And the result is chaos!
Isaac's reaction, when he realized how he had been deceived by Jacob, is emotional and torturous (27:33). And as Esau realizes what has happened, he responds with equal anguish (27:34). Fearing for the life of "her son," Jacob, Rebekah schemes to have him sent away to her brother, Laban, in Paddan-Aram (27:41–28:5). She thought Esau's anger would subside quickly and that he would forget Jacob's deception; she thought that she could then bring him back after "a few days" (27:44). A few days! It would be a few decades (twenty years, 31:38, 41) before "her son" would return to Canaan. And by then Rebekah would be dead: she would never to see "her son" again! This would be her last appearance in Genesis. Deception only leads to catastrophe. Later on, as we will find out, Jacob is himself deceived.
Nobody wins in a back-stabbing, heel-grabbing environment. The consequences are dreadful and community is splintered, fragmented, shattered. The fact that the entire passage is structured without having more than two family members together in any single scene is evidence of the dysfunctionality of that family, and is a warning to readers of what might happen if deception is chosen as the basic strategy of interpersonal relationships, to obtain and direct divine blessings one's own way.