Godliness?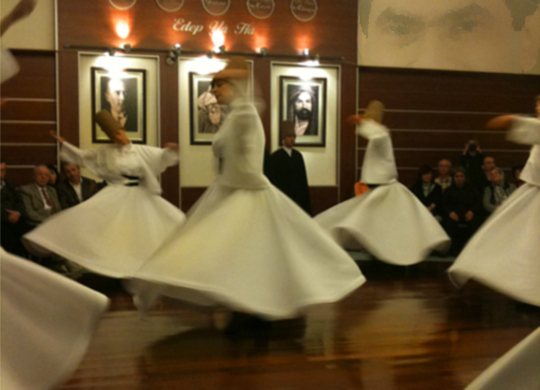 While in Istanbul the other day, I had the delight of viewing a Sema—"whirling dervishes" in action. The ceremony has been proclaimed by the UNESCO as amongst the "Masterpieces of the Oral and Intangible Heritage of Humanity."
These folks are part of the Mevlevi Brotherhood, a Sufi order within Islam, named after Mevlana Jalal ad-Din Muhammad Balkhi-Rumi, a 13th century Persian mystic. Apparently Rumi was strolling through a town marketplace once when he heard the hammering of goldsmiths occurring in a rhythm that sounded like "la ilaha ilallah" ("There is no god but Allah"). Entranced with joy, he stretched out his arms and began spinning in a circle. Thus began the practice of whirling.
It is all well regulated: The semazen (whirlers) enter wearing black cloaks that symbolize the grave; they bow to each other as they process around the hall, acknowledging the divine breath in each one; then they kneel and shed their black garb, for white gowns that symbolize death shrouds. Their tall brown hats are symbolic of tombstones. And there is music all throughout, provided by a chanter and a reed flute and a drum. At first their arms are crossed across their chests, signifying the oneness of God. When they dance, each of the whirlers have their right palms facing up towards heaven, and the left facing down towards earth, as they twirl through the hall, turning on their right feet. This keeps going for about 30–40 minutes! (And, no, no one succumbs to vertigo!)
The Sema is said to be a means for humans to attain to the divine. With their whirling they are freed from doubt, spinning away everything that keeps them from the ultimate reality. In the process, their existence is said to dissolve in this divine unity/reality, as they arrive at the junction of "non-existence within divine existence." It is considered "an intoxication of the soul"!
(Of course, as with any religious practice conducted by a minority, with the Sema also, the majority of Muslims consider all this whirling "spiritual drunkenness" and label it heresy.)
How exactly does one get closer to the divine? Especially considering that mankind has one big problem afflicting it.
This week, Christians are coming to the end of the season of Lent, the time when that big problem is uppermost in their minds—sin!
Your iniquities have made a separation
between you and your God,
And your sins have hidden His face from you
so that He does not hear.
Isaiah 59:2
And, towards the end of this week, we celebrate what exactly God did to get rid of this problem.
For Christ also died for sins once for all,
the just for the unjust,
so that He might bring us to God.
1 Peter 3:18
Indeed! The work of Jesus on cross, as our only God and Savior, enabled us to move towards godliness.
His divine power has granted to us
everything pertaining to life and godliness.
2 Peter 1:3
And one day, we will be like Christ!
We know that when He appears,
we will be like Him.
1 John 3:2
In the meantime, until that day of glorious transformation, we walk in obedience, as Jesus exhorted.
If you love Me,
you will keep My commandments.
John 14:15
We seek daily to attain …
… the stature which belongs to the fullness of Christ.
Ephesians 4:13
After all, that was God's goal for his children from the beginning.
For those whom He foreknew,
He also predestined to become conformed
to the image of His Son.
Romans 8:29
The way to godliness—Jesus Christ!