Gratification!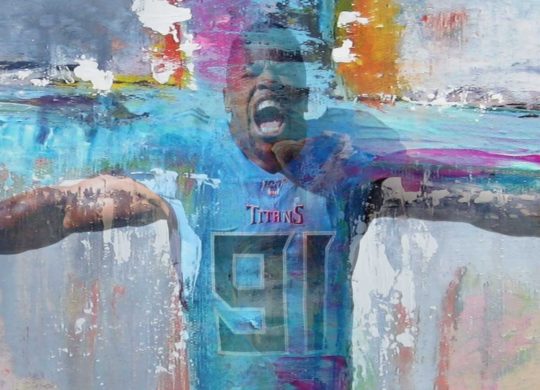 What's it about old guys and football?
There's forty-something Tom Brady and Adam Vinatieri. And those getting close to the fifth decade of life: Eli Manning, Philip Rivers, and Terrell Suggs. They're still playing! (Or they were, the last time I watched football which, admittedly, was a while ago.)
But it's fascinating. In a sport that is extremely physical and fraught with danger even for those with good reflexes, the fact these old geezers (!) are still around says something about them.
A recent AP report on Tennessee Titans linebacker Cameron Wake—and this dude is 37—gives us some clues.
Nope, he won't be your drinking buddy. Nope, he won't go out for cheeseburger with you. Fries or chips? Forget it.
Said one journalist:
He's been eating cleanly for so many years that tuna with sunflower seeds sounds so good Wake can imagine wanting that meal even in retirement."
Wake was a personal trainer in his life-before-football, and does what he's no doubt exhorted his clients to do—to abandon fried foods, processed stuff, candy, chips, cheese and to consume only lean meats and veggies. Apparently, the guy's menu doesn't change even after the season is over; this five-time Pro Bowl athlete has stuck with his regimen all year round for thirteen years!
It's a decision you have to make to say, 'I decide to do this and give up that.' Could be nights out, could be drinking, it could be food. Whatever you decide is going to benefit you in your journey. I've had mine."
Another fellow, Los Angeles Rams left tackle Andrew Whitworth—this one will be 38 soon—is going into his fourteenth season.
I tailor my schedule way more than I used to when I was young. Offseason, too. I don't really take any break at all. I just kind of continuously work out year-round."
Not just skill, but the willingness to sacrifice, a mind set on end goals, and an incessant commitment.
Confessed Wake:
I'm going to choose long term over the here and now, delayed gratification, all those things."
Jesus did that. No, not play football, but delay his gratification.
… Jesus, the author and perfecter of faith,
who for the joy set before Him endured the cross, despising the shame,
and has sat down at the right hand of the throne of God.
Hebrews 12:2
And Jesus taught that to his disciples.
Jesus said, "Truly I say to you, there is no one who has left
house or brothers or sisters or mother or father or children or farms,
for My sake and for the gospel's sake,
but that he will receive a hundred times as much now in the present age,
houses and brothers and sisters and mothers and children and farms,
along with persecutions; and in the age to come, eternal life."
Mark 10:29–30
And so did Paul:
For momentary, light affliction is producing for us
an eternal weight of glory far beyond all comparison,
while we look not at the things which are seen, but at the things which are not seen;
for the things which are seen are temporal, but the things which are not seen are eternal.
2 Corinthians 4:17
So, let's keep our eyes ahead, and on Jesus.
Therefore, since we have so great a cloud of witnesses surrounding us,
let us also lay aside every encumbrance and the sin which so easily entangles us,
and let us run with endurance the race that is set before us,
fixing our eyes on Jesus …
Hebrews 12:1–2
Delayed gratification! Hang in there!
SOURCE:
USA Today