Guide!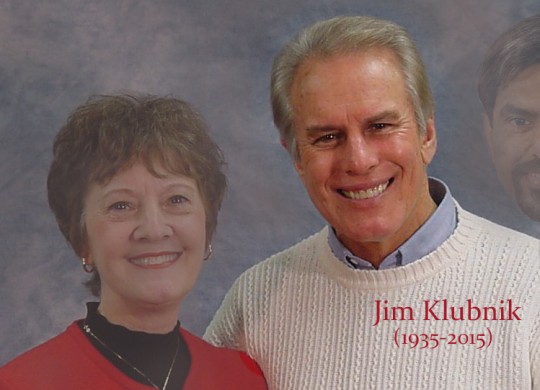 Everybody should have a Jim Klubnik in their lives.
I did. He was my first pastor, in more sense than one. Not only did he serve as the pastor of the church I first attended when I came to the U.S. about thirty years ago, he was, indeed, my first shepherd, leading me to finding my niche in life and ministry.
Jim went to be with the Lord earlier last week.
He was a Dallas Seminary grad, and the first one to get me interested in studying the Bible. He pushed me—against my will—to teach a Sunday School class at church. Those dear people who sat through that ordeal bear me no ill-will, thankfully.
Jim and his wife Peggi had a thriving summer ministry in the Soviet Union/Russia. One year he twisted my arm to fill in for him teaching a Bible study for bunch of senior ladies. (One of the attendees died the week after I commenced my enterprises. I still hope it was nothing to do with me.) That began an association with those sweet women that lasted years.
I was also Jim's student for several semesters at Houston Bible Institute. Evangelism. Spiritual Life. Bible Study Methods. I remember those early forays into theological academia with fondness. HBI used to meet in the studios of the local Christian radio station, KHCB 105.7 FM. After our Thursday classes, Jim would move over to the recording room to go live on radio with a Question and Answer program. Jim's knowledge of the Bible was impressive and served as the impetus for me to think of seminary one day in the future.
Often, Jim would haul me into the recording session with him, headphones and microphone and all. My task was to read Scripture when, in answer to someone's question, Jim would direct me to pull up a particular verse. The calls to the station often continued well past the allotted hour, and it fell upon me to take over for Jim off the air. What an experience!
I moved on, pursuing my medical career, interim pastoring, doing my post-doc work, finishing up my residency, and finally ending up in Dallas, to take classes at the institution where my guide, Jim Klubnik, had graduated from. And here I am now, teaching at DTS!
Jim (and Peggi) and I have gotten together on occasion after that, chatting about DTS, about my preaching experiences, and their ongoing ministries. Always a delight, the Klubniks.
(I still have the guitar he donated to me a quarter century ago.)
Recently, he had had some health issues, and I had been planning a trip to Houston to visit the Klubniks. That's when I got word that he had moved on to a far better place.
I will miss him sorely, but our next reunion will be grand!
God has blessed me with Jim's life and his influence in mine.
Everybody needs a Jim Klubnik.
And you know what? Everyone should be a Jim Klubnik to somebody else.
Our gospel did not come to you in word only,
but also in power and in the Holy Spirit and with full conviction;
just as you know what kind of men we proved to be among you for your sake.
You also became imitators of us and of the Lord ….
You know how we were exhorting and encouraging and imploring each one of you
as a father would his own children,
so that you would walk in a manner worthy of the God
who calls you into His own kingdom and glory.
1 Thessalonians 1:5–6; 2:11–12