Hair?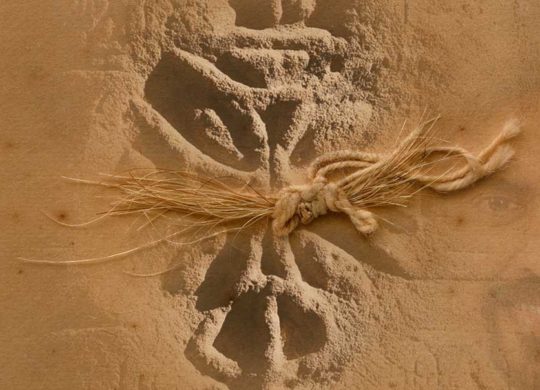 An archivist stumbled upon an interesting find in the shelves on the third floor of the library at Union College, Schenectady, New York, last year. A red leather-bound book that no one had noticed thus far.
It was an almanac, printed in New York: Gaines Universal Register: Columbian Kalendar for the Year of Our Lord 1793. All kinds of information filled its pages—names of the new nation's senators and that of its president ("George Washington Esq."), and other personal notes (including one on how to preserve beef during the hot summer months) jotted down by the book's owner, Philip Schuyler, a prominent businessman in Upstate New York in the late 18th century . His father General Philip Schuyler, fought in the Revolutionary War and was one of the founders of Union College (1795).
There was also an envelope in the book, looking as ancient and as friable as the book's own pages. It was inscribed with someone's initials and and the words, "Washington's Hair." And, yes, there was a lock of grayish hair tied with a thread inside.
Exclaimed the librarian of Union College, John Myers:
It was kind of one of those 'OMG!' moments. You know, this really feels like the real deal."
Washington, by the way, did not wear a wig, as is commonly assumed. He had long hair, meticulously coiffed and powdered to look the way it does on our $1 bill. Researchers think that some of it was cut off and saved upon his death (Dec 14, 1779) and again when his remains were reinterred with those of his wife (in 1831).
Said Keith Beutler, professor of history at Missouri Baptist University and author of George Washington's Hair:
You could kiss it, hold it. It's the ultimate communion experience with the ultimate American."
As he was researching his book, Beutler found more than 100 institutions across the country, including museums and universities, claiming to possess some of the former president's hair. Apparently it was doled out to many and possessing a lock became a status symbol. Besides, as Myers notes, collecting hair was a common practice:
"Exchanging locks of hair were like the selfies of the day."
Detective work seems to substantiate the origin of that lock of Washington's hair. The initials on the envelope are those of Louisa Lee Schuyler, great-granddaughter of Philip Schuyler and the great-granddaughter of founding father, Alexander Hamilton. In fact, it is known that in 1889, at a gala ball for the centennial of Washington's inauguration, Ms. Schuyler wore a pearl locket containing some of the president's hair.
Fascinating stuff!
But the fact remains that, whether it is his hair or not, the good man, Washington, is dead!
Unlike the only one to have been resurrected from the dead never to die again, Jesus Christ.
And they found the stone rolled away from the tomb,
but when they entered, they did not find the body of the Lord Jesus.
Luke 24:2–3
He had risen, having fully and finally paid for the sins of all who believe on Him. Death, itself, had been defeated.
Death is swallowed up in victory. "O Death, where is your victory? O Death, where is your sting?"
… but thanks be to God, who gives us the victory through our Lord Jesus Christ.
1 Corinthians 15:54, 55, 57
And so we, too, have the hope of eternal life.
Blessed be the God and Father of our Lord Jesus Christ,
who according to His great mercy has caused us to be born again to a living hope
through the resurrection of Jesus Christ from the dead.
1 Peter 1:3
He is risen, indeed!