Innocents!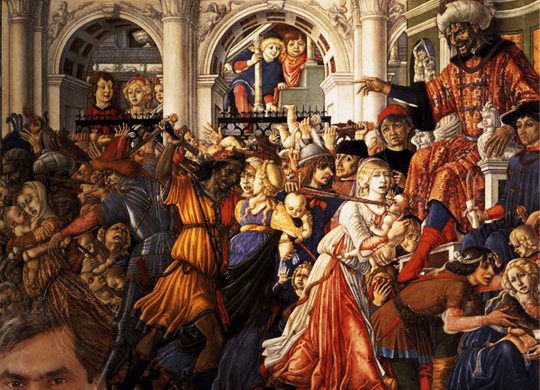 The Drudge Report ran this headline yesterday: "Slaughter of Innocents." This was, of course, referring to the abominable act of cruelty and madness inflicted upon Newtown, CT, last Friday. Twenty-seven killed, of them twenty children between the ages of 5 and 10. Flags at half-mast in the White House, Capitol, and elsewhere.
At a news conference on Friday, President Barack Obama, his voice cracking at times, reacted as a parent would: "Our hearts are broken today. The majority of those who died today were children. … They had their entire lives ahead of them—birthdays, graduations, weddings, kids of their own," Mr. Obama said, fighting back tears. "This evening, Michelle and I will do what I know every parent in America will do, which is hug our children a little tighter and we'll tell them that we love them."
Drudge's headline was appropriate. It was the slaughter of innocents, indeed.
The phrase is an allusion to the biblical story of infanticide committed by Herod the Great (74 B.C.E.–4 B.C.E.), the Rome-appointed King of the Jews.
Some time after the birth of Jesus, wise men—magi—from the east (Persia?) went to Judea, following a star, to search for the one born as the King of the Jews. Of course, they assumed that such a regent would be born in a palace. So that's where they went. Herod the Great, truly a madman who murdered many of his own family members, not mention a number of Jewish rabbis, knew nothing of the birth of this newborn king. His courtiers, though, knew better, referring to an Old Testament prophecy to point the magi to Bethlehem.
"But as for you, Bethlehem Ephrathah …
From you One will go forth for Me to be ruler in Israel.
His goings forth are from long ago, From the days of eternity."
Micah 5:2
Herod directed the magi to return to him with details of this new King, on their way back from Bethlehem.
They didn't. After they found baby Jesus and worshiped him, they were warned by God in a dream. Making a detour, they skipped Herod's palace.
Then when Herod saw that he had been tricked by the magi,
he became very enraged, and sent and slew all the male children
who were in Bethlehem and all its vicinity, from two years old and under ….
Matthew 2:16
The Slaughter of Innocents! The first martyrs for the cause of Jesus Christ.
Scholars have doubted the historicity of this story, considering that there don't seem to be any contemporary accounts to corroborate the biblical narrative. But Bethlehem, then a town of perhaps 1000, may have had, at most, twenty male infants.
Twenty! Slaughter of innocents, indeed.
In those days without cable TV, newspapers, or the internet, this might not have been a spectacular assassination, explaining the lack of coverage. There is no reason why the Matthean account could not be true.
Then what had been spoken through Jeremiah the prophet was fulfilled:
"A voice was heard in Ramah, weeping and great mourning,
Rachel weeping for her children;
and she refused to be comforted, because they were no more."
Matthew 2:17–18
I have no answers to why God did not prevent that Slaughter of Innocents, as well as the one that was perpetrated last week. No answers at all.
Except to rest by faith upon God's person and purposes. Not easy. But that's what we are called to do. As Job declared:
"Even if he slays me, I will hope in him."
Job 13:15
Not easy at all. Faith never is.
"Lord, help our unbelief!