Isolation!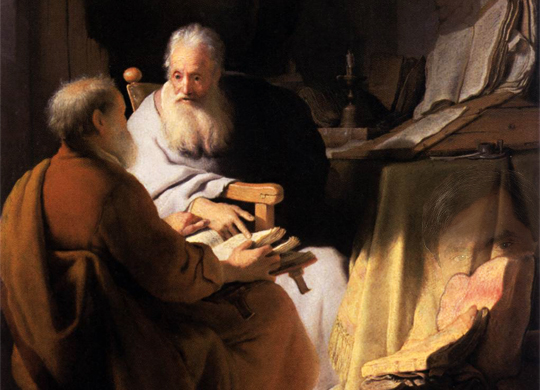 Stuck for ideas? Stalled in a project?
Most of us do get stuck and stalled in the beginning or middle or towards the end of endeavors. Now what do I do?
But then have you had this happen to you? You are explaining your difficulty—your "stuckness"—to someone else and, all of a sudden, the solution comes up, either in the other person's comment or question, or even as you were detailing your problem. It's like the very act of sharing an issue created the atmosphere for a striking insight.
In fact, research has shown this to be true. One clear way to boost creativity is to break out of isolation and talk and share and interact with others.
Kevin Dunbar, professor of Psychology at the University of Toronto Scarborough, looked at the inner workings of four microbiology research labs to study how new theories came up. And, perhaps not surprisingly, he discovered that insights scintillate and sparkle, flash and flicker, not in those moments of studied isolation in one's cubicle, but during those regularly scheduled, drab and dour lab meetings, where researchers discussed their findings and their setbacks. Often the discussions revealed potential solutions and breakthroughs.
And, again perhaps not surprisingly, the more diverse the lab personnel, the more easier came the solutions. Homogeneous team = same old ideas = remaining stuck. Heterogeneous team = fresh new ideas = breakthroughs.
David Burkus, professor of management at Oral Roberts University, gives the example of Google. This "best place to work" often gets recognized for its free gourmet food for employees. But employees' alimentary satiation is not the only thing that is accomplished by this program. By encouraging Googlers to interact with others outside their departments, the atmosphere of sharing and breaking through is enhanced.
Another company has a "wiki wall"—every inch of vertical space is taken up by a whiteboard. Everyone can contribute. Pictures can be added. All can comment. And that over a period of time. Eureka! moments, you see, take time. And people. Lots of them.
No more the mad scientist, unconnected, insular, secluded, confined.
We need others. Not just for ideas. But for well-being. For happiness. For fulfillment. For growth. For spirituality.
The Christian life can never be a Lone Ranger phenomenon.
For even as the body is one and yet has many members,
and all the members of the body,
though they are many, are one body, so also is Christ.
For the body is not one member, but many.
If the foot says, "Because I am not a hand, I am not a part of the body,"
it is not for this reason any the less a part of the body.
And if the ear says, "Because I am not an eye, I am not a part of the body,"
it is not for this reason any the less a part of the body.
If the whole body were an eye, where would the hearing be?
If the whole were hearing, where would the sense of smell be?
But now God has placed the members,
each one of them, in the body, just as He desired.
If they were all one member, where would the body be?
But now there are many members, but one body.
1 Corinthians 12:12, 14–20
Nope, no isolation in the Body of Christ. So …
… let us consider how to stimulate one another to love and good deeds,
not forsaking our own assembling together, as is the habit of some,
but encouraging one another;
and all the more as you see the day drawing near.
Hebrews 10:24–25
Breakthrough! Eureka!