Mark 1:21–45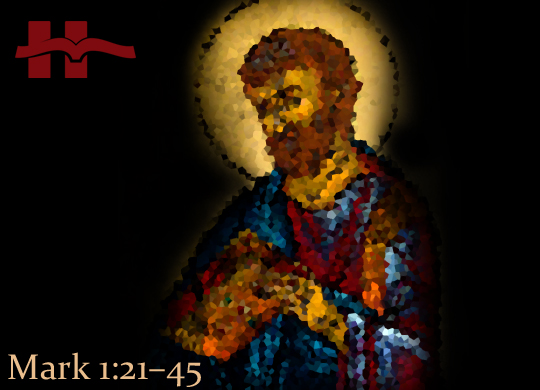 Following Jesus is not a self-serving enterprise, but one of selfless service.
And He came and raised her up,
holding her hand; and the fever left her,
and she served them.
Mark 1:31
Jesus has just called disciples to follow. How should they? This pericope provides the first answer.
Mark 1:21–45 is a fast-paced description of the spreading of Jesus' fame. It is set in and around Capernaum, in the space of two twenty-four hour periods (1:32, 35), and contains all the aspects of Jesus' Galilean ministry: teaching, exorcism, healing, and preaching.
The pericope is carefully structured.
A   Exorcism (demon goes out, 1:26); unclean; imposition of silence; scribes (1:21–27)
B   Jesus' fame spreads to all the region of Galilee (1:28)
C   Private: in a house, Simon's mother-in-law is cured, after the intervention of the four (1:29–31)
D   Public: all the city; healing/exorcism and imposition of silence (1:32–34)
C'  Private: in a deserted place, Jesus is found, and Simon and those with him intervene (1:35–38)
B'  Jesus goes to all of Galilee (1:39)
A'  Healing (leprosy goes away, 1:42); clean/cleansing; imposition of silence; priests (1:40–45)
The center of the section has the key statement that everyone was clamoring for Jesus' presence. The crowds were seeking their own liberation from disease; entire regions and whole cities were coming to Jesus, the miracle worker par excellence (note the repetition of all). The disciples, too, were caught up in the shallow excitement of Jesus' miracles. Twice they intervene, seeking to have their needs met: telling Jesus about the plight of a family member, (1:29–31), and executing their own plans for Jesus to meet the needs of the crowds (1:35–38). Uncomprehending, both crowds and disciples are following Jesus, for the wrong reasons, for the tangible goods and betterments of life that he might dole out. That, Mark is asserting, is not what discipleship is all about. The kingdom of God is not merely about providing mankind utilitarian improvements to make existence easy and comfortable.
In these accounts of Jesus' increasing popularity, only Simon's mother-in-law, is said to serve Jesus (1:31)—an act of self-giving. Nobody in that idolizing crowd is mentioned as giving to Jesus, not even the disciples. Everyone is out to get, except for this anonymous woman. But here was one who was willing to give, because she herself had been given. It is significant that there are only two instances of serve with humans as subjects in Mark's Gospel: in 1:31 and 15:41, and both times the subjects are women. Mark is pointing an appreciative finger at the example of this woman who does the male disciples one better! She was already doing what Jesus himself would later model for his disciples: the Son of man did not come to be served, but to serve (10:45). The narrator is implying that this was a true disciple, serving after the fashion of her Lord.
This journey of discipleship does not necessarily guarantee earthly returns in terms of tangible goods, relief from affliction, or freedom from pain. At best, such an attitude is naïve; at worst, mercenary. The journey of discipleship into which the disciple enters by divine call is not primarily intended to make one feel good, comfortable, or happy, at least not in this life. On the contrary, Jesus' mission, one that his disciples follow after, is a magnificent and noble undertaking, that must be entered into with the primary attitude of selfless service—to give, and not to get. That's our call.