Neglect!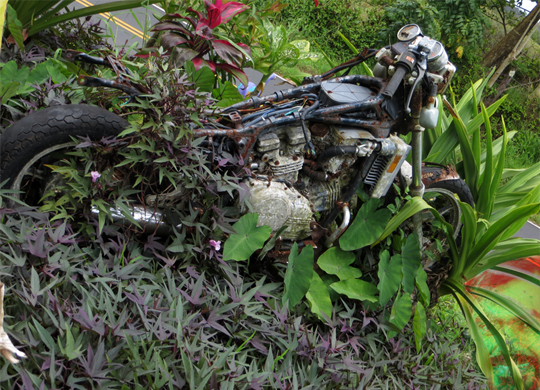 The Hāna Highway (aka Road to Hana) is a 68-mile stretch of asphalt in east Maui. It takes about 3 hours to navigate though, with 620 serious curves and 59 bridges (most of them only one lane wide). One side you have lush, verdant rainforest with streams and waterfalls and all. On the other, cliffs and a raging sea with beaches with gold sand, black sand, and red sand! Spectacular!
Somewhere on this road in the middle of nowhere is Coconut Glen's ice cream stand.
Glen Simkins (aka Coconut Glen) moved to Maui from Boston in 2006 after having searched for culinary excellence as a star chef, studying at the New England Culinary Institute and working all over Europe. Tired of the stress and strain, he moved to Hawaii to "get some sort of job, sleep wherever, pick fruit off the trees to survive, and live the life."
The fruit he got attached to was coconut. He made coconut cakes, coconut curries, coconut caramels, and coconut candies out a little stand built of recyclable materials. In 2008, he had a brainwave. Coconut ice cream. Dairy free. The rest is history.
Not only is the ice cream outstanding, you get to eat it out of a coconut shell with a piece of coconut husk shaped like a spatula. Fun.
(And now Mr. C. Glen carries other exotic flavors as well: coffee toffee, chili chocolate chipotle, lilikoi, and banana fudge.)
And just outside his ice cream stand—which is always buzzing with customers—is this abandoned motorcycle. I didn't get a chance to ask C. Glen what the story was behind the machine, but I was taken by the dilapidation.
Perhaps it was a relic of his earlier days. Maybe he didn't need a bike in the middle of nowhere. Maybe the Road to Hana is not the best highway to negotiate with a two-wheeler. Maybe he ran out of gas. Or spare parts. I don't know.
But it could happen to us.
It all starts with just a bit of forgetfulness that becomes neglect that becomes paralysis that becomes, before you know it, a total write-off, a total loss.
Yup, it could be you or me. A little drift. Slip slidin' away!
… let him who thinks he stands
take heed that he does not fall.
1 Corinthians 10:12
You don't take heed, you fall. You don't use it, you lose it.
Entropy. Things break down and wear out and fade away without a positive input of organizing force or energy. Everything is falling apart. Many things despite our best efforts, body parts for one. Other things because of neglect, benign or otherwise. And that's particularly true of the spiritual life.
Do not neglect the spiritual gift within you ….
Take pains with these things; be absorbed in them,
so that your progress will be evident to all.
Pay close attention to yourself
and to your teaching;
persevere in these things ….
1 Timothy 4:14–16
Distractions are plenty. Seductions galore. Weeds everywhere.
Easy to be sidetracked. Easy to let the fire get extinguished. Easy to get shipwrecked on treacherous shoals.
Unless we are careful, sober, watchful as we …
… fight the good fight of faith.
1 Timothy 6:12
That's our mandate.
I charge you in the presence of God,
who gives life to all things, and of Christ Jesus, …
that you keep the commandment
without stain or reproach
until the appearing of our Lord Jesus Christ …
He who is the blessed and only Sovereign,
the King of kings and Lord of lords.
1 Timothy 6:13–15
No more weeds.
Amen!