Overtaken!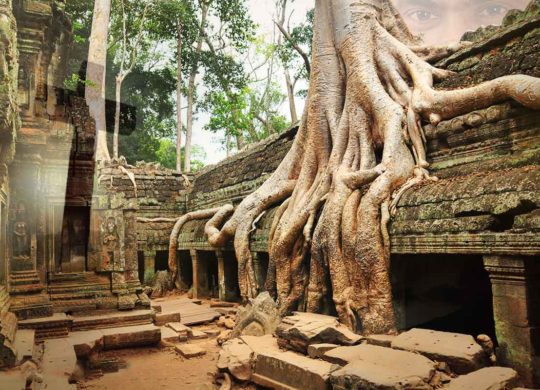 A few months ago, I had the privilege of visiting a spot on this globe that has been on my bucket list for a long time: Angkor Wat ("Capital Temple"), in Siem Reap, Cambodia. This is the largest religious monument now existing, located on over 400 acres, and made up of a vast complex of temples, all in various states of ruin. Originally built as Hindu temples in between the 9th and 12th centuries, they were transformed into Buddhist shrines as the politics and religion of the Khmer Empire shifted. "Angkor Wat" actually designates a single temple, but the title is used for the whole complex as well. The entire expanse is now a UNESCO World Heritage Site, attracting around two million visitors each year.
One of those magnificent temples is Ta Prohm, perhaps the most visited in that region. It is one of the few temples bearing an inscription inventorying its property: gold plates weighing 5 tons, 35 diamonds, 40,620 pearls, 4,540 precious stones, 967 veils from China, 512 silk beds, and 523 parasols!
But that's not the fascination of this "Tomb-Raider Temple," truly Lara-Croft- and Indiana-Jones-like, eerie and weird. This is where jungle and manmade edifice merge seamlessly. (And, yes, Ta Prohm was a key location for the Tomb Raider [2001].)
Angkor scholar, Maurice Glaize, noted:
On every side, in fantastic over-scale, the trunks of the silk-cotton trees soar skywards under a shadowy green canopy, their long spreading skirts trailing the ground and their endless roots coiling more like reptiles than plants."
Neglected for centuries after the fall of the Khmer Empire in about the 15th century, Ta Prohm is a study in what nature can do. The nineteenth-century discoverers and renovators decided to leave it as is, with minimal ongoing maintenance, to sustain its stunning value-"a concession to the general taste for the picturesque." And picturesque it indeed is.
Here's another Angkor researcher, Andrew Booth:
Great silk-cotton trees appear to melt into the meticulously hewn stones, binding them together or tearing them apart in an extraordinary fusion of nature and man, and a juxtaposition of order and chaos."
Of course, there is nothing that can be done to remove the reptilian flora without ruining the temple, but who'd want it tidied up? It looks absolutely marvelous as it is.
And if it isn't already part of the jungle, it soon will be. Entropy, I suppose. Everything is falling apart and being taken over by the elements … particularly if neglected.
And that's true for the spiritual life, as well. Neglect leads to collapse, chaos, carnage.
Do not neglect the spiritual gift within you. …
Take pains with these things; be absorbed in them, so that your progress will be evident to all.
Pay close attention to yourself and to your teaching; persevere in these things.
1 Timothy 4:14-16
Fight the good fight of faith; take hold of the eternal life to which you were called,
and you made the good confession in the presence of many witnesses.
I charge you in the presence of God, who gives life to all things, and of Christ Jesus, …
that you keep the commandment without stain or reproach until the appearing of our Lord Jesus Christ.
1 Timothy 6:12-14
You, however, continue in the things you have learned and become convinced of,
knowing … that from childhood you have known the sacred writings
which are able to give you the wisdom that leads to salvation through faith which is in Christ Jesus.
2 Timothy 3:14-15
So …
Be sober in all things ….
2 Timothy 3:5
Neglect no more!