Shepherd!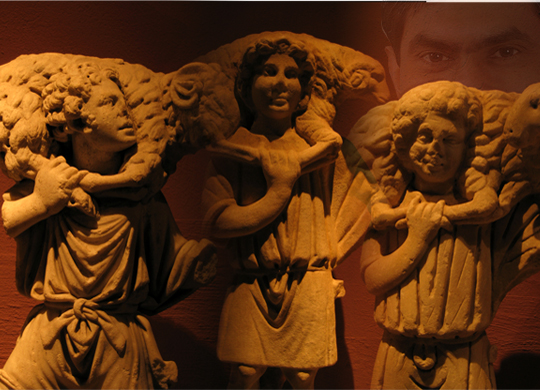 There are several of these images in the İstanbul Arkeoloji Müzeleri (Istanbul Archeological Museums): the Good Shepherd statuettes.
In the early centuries of the church, no images of Christ were sculpted, painted, or drawn. Rather artists depicted Jesus symbolically, and one of the commonest depictions was of him as the Good Shepherd.
This metaphor is derived from Jesus' teaching in John 10.
"I am the good shepherd,
and I know My own and My own know Me,
even as the Father knows Me
and I know the Father …"
John 10:14
He is the one who cares for his flock, protecting, nourishing, cherishing, guiding, refreshing, restoring.
The concept of God as a shepherd is not new to the New Testament. Jesus was not taking on a new role, for God is depicted as Shepherd numerous times in Scripture.
The LORD is my shepherd, I shall not want.
Psalm 23:1
Save Your people and bless Your inheritance;
Be their shepherd also,
and carry them forever.
Psalm 28:9
Like a shepherd He will tend His flock,
In His arm He will gather the lambs
And carry them in His bosom;
He will gently lead the nursing ewes.
Isaiah 40:11
In fact, ancient leaders were frequently labeled "shepherds"; Hammurabi of Babylon, called himself one, and Homer often alluded to Greek chieftains as "shepherds." Rulers, from ancient times onward, have exercised their authority as "pasturing" their people. Indeed, the scepter carried by kings, the royal staff, is actually a representation of the shepherd's crook or rod: a symbol of power and protection.
The shepherd is the one who is concerned for his flock, who is committed to his flock, and cares for his flock.
But there's more than that at stake in the Bible. Jesus Christ as the concerned, committed, and caring Good Shepherd is the one who, unlike any other shepherd anywhere else, royal or otherwise, literal or metaphorical, lays down his life for his sheep.
"I am the good shepherd;
the good shepherd lays down His life for the sheep."
John 10:11
Paying the price of their sin, Jesus died for his "sheep" on the cross, rising again, bringing eternal life to all who praise their trust in him as their only God and Savior.
"My sheep hear My voice,
and I know them, and they follow Me;
and I give eternal life to them,
and they will never perish;
and no one will snatch them out of My hand.
John 10:27–28
To that, we can only sing with Miss Crosby …
Praise him! Praise him! Jesus, our blessèd Redeemer!
Sing, O Earth, his wonderful love proclaim!
Hail him! Hail him, highest archangels in glory;
strength and honor give to his holy name!
Like a shepherd Jesus will guard his children,
in his arms he carries them all day long:
Praise him! Praise him! Tell of His excellent greatness;
Praise him! Praise him ever in joyful song!
Praise him! Praise him! Jesus, our blessèd Redeemer!
For our sins he suffered, and bled and died;
he our Rock, our hope of eternal salvation,
Hail him! Hail him! Jesus the Crucified.
Sound his praises! Jesus who bore our sorrows,
Love unbounded, wonderful deep and strong
Fanny J. Crosby (1869)
Now the God of peace,
who brought up from the dead
the great Shepherd of the sheep
through the blood of the eternal covenant,
even Jesus our Lord,
equip you in every good thing to do His will,
working in us that which is pleasing in His sight,
through Jesus Christ,
to whom be the glory forever and ever. Amen.
Hebrews 13:20
And "Amen!"