Sweet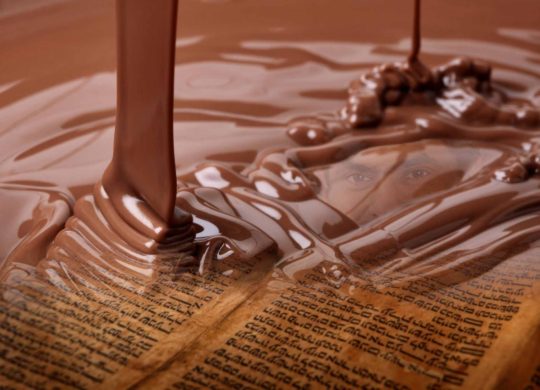 The other day drivers heading to Warsaw or Poznan (Poland) had an unusual (but yummy) surprise.
Both directions of the A2 autostrada (motorway), running east-west through central Poland between Warsaw and Poznan, were shut down … by 12 tons of liquid chocolate!
Not a traffic jam, but a chocolate jam!
Apparently, a tanker carrying that delicious load hit a highway barrier and overturned, spewing a vast pool of quickly-hardening chocolate all over the A2. (The driver only suffered a broken arm in the accident.)
Firefighters, though, weren't feeling sweet about the catastrophe. The solid chocolate (yes, by now it had turned into a gooey un-wash-off-able mess) was giving them trouble.
Said Senior Brigadier Bogdan Kowalski, a fire fighter, to local news, TVN24:
The cooling chocolate is worse than snow."
It's a sticky situation, no doubt.
Besides, cars, before the motorway was closed, drove right through the muck, spreading it in each direction for more than a mile, creating a nice chocolate trail from pole to pole.
Emergency workers, after consulting with the chocolate manufacturer, began cleanup with hot, pressurized water to melt the roadblock. Bulldozers helped.
Declared Marlena Kukawka, a spokesperson for the local police:
The clean-up crew is in good spirits."
Well, they were swimming in chocolate!
She added:
It's been a long time since I've seen so many smiles on the faces of emergency rescue folks and police officers at the scene of an accident. And that's despite the fact that they still have a ton of work to do."
I'd smile too.
But one local journalist wasn't … snickering. A TVN24 reporter at the scene was gingerly easing himself past the chocolake on the shoulder of A2, when he slipped and fell into a ditch … full of chocolate.
If only a truck containing peanut butter had also, at the same time, spilled its load, at the same spot. (But it would have to be JIF!) My, wouldn't life be sweet!
At any rate, from now on, I'm carrying a spoon in my glove compartment. Just in case.
Oh, it's just a horrible experience
I had chocolate all over me
I was swimming around like that, yelling "Fire!"
Well, what possessed you to yell "Fire!"
when you fell into this vat of liquid chocolate?
That's pretty, uh, ridiculous if you ask me.
It certainly is, uh, when I …
I just yelled "Fire!" when I fell into the chocolate.
Tom, why'd you yell "fire" when you fell into the chocolate?
Well, I yelled "Fire!" because no one
would save me if I yelled, "CHOCOLATE!"
"Chocolate," The Smothers Brothers (1962)
So there you have it, folks. You know what to do when this happens in your neighborhood.
But the Bible says that not everything sweet is good.
"Stolen water is sweet;
And bread eaten in secret is pleasant."
Proverbs 9:17
Bread obtained by falsehood is sweet to a man,
But afterward his mouth will be filled with gravel.
Proverbs 20:17
The Bible declares that only God's words are truly sweet!
They are more desirable than gold, yes, than much fine gold;
Sweeter also than honey and the drippings of the honeycomb.
How sweet are Your words to my taste!
Yes, sweeter than honey to my mouth!
Psalm 19:10; 119:103
In fact, we should be producing such divine, godly, sweet words ourselves.
Pleasant words are a honeycomb,
Sweet to the soul and healing to the bones.
Proverbs 16:24
And …
Oil and perfume make the heart glad,
So a man's counsel is sweet to his friend.
Proverbs 27:9
Let's go and be sweet!