Timezones!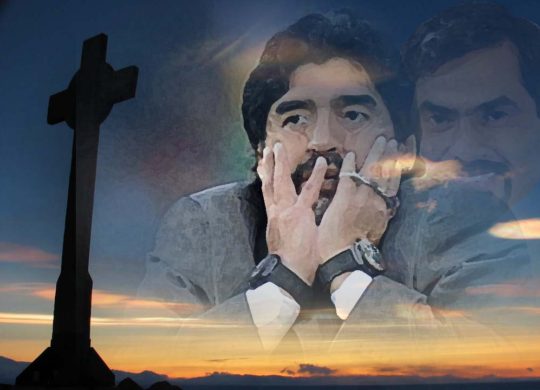 Diego Armando Maradona is regarded as the greatest football player of all time. He was joint FIFA (Fédération Internationale de Football Association) Player of the 20th century (with the Brazilian star, Pelé). The 5'5″ maestro's incredible ball control, dribbling skills, speed, and reflexes gave him the nickname El Pibe de Oro ("The Golden Boy"). In his international career with Argentina, he wore 91 caps and scored 34 goals, including the "Goal of the Century" against England in the 1986 World Cup quarter final that Argentina won 2–1. He always wore a #10 jersey.
The Houston Chronicle described Diego Maradona this way:
To understand the gargantuan shadow Maradona casts over his football-mad homeland, one has to conjure up the athleticism of Michael Jordan, the power of Babe Ruth—and the human fallibility of Mike Tyson. Lump them together in a single barrel-chested man with shaggy black hair and you have El Diego, idol to the millions who call him D10S, a mashup of his playing number, 10, and the Spanish word for God, Dios."
Maradona, once the manager of the Argentinian team, had to watch their catastrophic defeat at the hands of Croatia in the 2018 World Cup a couple of months ago.
As Croatia moved ahead, El Diego was clutching his head with both hands, visibly in agony!
But fans noted one more thing. He was wearing two watches—yes, two, one on each wrist!
Whatever for?
Was he so unsure of the time that he needed two? Boiling two different eggs at the same time? Waiting for trains in two timezones?
And it was the same make and model on each arm.
And, apparently, that's not a new practice with El Diego. He's been doing this two-watch thing for a long time, at least the past fifteen years, as photos tell us.
Yes, the guy is a bit eccentric. But two watches?
But, apparently, the reason is pretty simple and straightforward. He wears two watches whenever he is traveling. And one of those watches is set to Argentinian time, so he always knows what time it is at home. (The other watch, obviously, is set to local time wherever he is.)
Connected to home! To family, to friends. That's where the heart is, where the ones we love are.
You know, Christians are people of two timezones, too, yes, two timezones.
Their Home—the real Home—is where their loved ones already gone on are, where the saints of yesteryear are, where their "dwelling place" is, where there will be no longer be any death, mourning, crying or pain, where their Savior is—the One who loved them and gave Himself up for them, so that it is no longer they who live ….
Two timezones. Temporal and eternal. Bound to earth, but heaven-bound. Two timezones. Soon and very soon ….
Therefore if you have
been raised up with Christ,
keep seeking the things above,
where Christ is,
seated at the right hand of God.
Set your mind on the things above,
not on the things that are on earth.
For you have died
and your life is hidden
with Christ
in God.
Colossians 3:1–3
Two clocks. Straddling two timezones. Two places. Already … but not yet.
Hang in there. We're going Home … soon!
We are of good courage, I say, and prefer rather to be absent from the body
and to be at home with the Lord.
2 Corinthians 5:8
Two timezones. One pointing to home and the other to Home—the Real One.
And it's coming. Soon and very soon. We'll be home soon!