Untangler!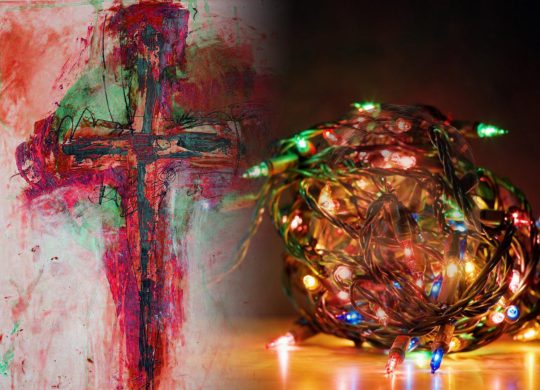 If you haven't yet figured out what your true vocation in this world is, there's still hope for you. Take a look at this.
The other day, Tesco, the multinational, UK-based groceries and general merchandise retailer, advertised a job opening for—get this!—"a Christmas light untangler." To start "as soon as possible" for the festive season.
Apparently, Tesco is going to invite customers to bring in their tangled (and un-untangleable) lights. [Yup, we've all been there!] And said "Christmas light untangler"—the resident expert at this thankless job—will be tasked with the responsibility of untangling those Christmas lights.
Hey, whatever it takes to make your Christmas untangled!
According to Tesco, the main criteria for this modern-day festive elf is:
They should be able to successfully untangle customers' Christmas lights neatly, quickly and efficiently and in an orderly fashion."
In fact, there is even an "audition" for the job.
Specifically, they must be able to untangle three metres of Christmas lights in under three minutes at the store in Wrexham, north Wales."
Ready, set, untangle!
If you love puzzles and want to take your untangling skills to a professional level, this might be for you.
But there's more. You also need to:
Be passionate and knowledgeable about the service you are offering
Take time to listen and help out wherever you can: Every little helps
Have the energy and drive to be your best and exceed expectations
Have strong communications skills
Be persistent and patient
Once you have the lights untangled, you have to check all the bulbs for signs of breakage, and report findings to the customer.
Handle customers' lights carefully to keep everything in tip-top condition.
Talk to colleagues, sharing your enthusiasm and helping to create team spirit
Get to know your customers, greeting them with and smile and serving them with pride
Give a brilliant customer experience, making sure you deliver only the best service and put a smile on customers' faces
Always be on time and properly presented
And the pay? For 36 hours a week, the salary is simply described as "competitive." (The service will be free of charge for tangled customers.) Tesco does say that a typical day "could involve untangling up to 60 sets of lights." That's 4½ days × 60 lights/day = 270 traumatic Christmas light untanglings a week!
That's quite an ask! But, if that's your kind of thing, get your application in.
I am grateful to Tesco for understanding the pain and suffering we all go through and trying to alleviate our anguish a little bit this season.
Here's hoping the service will be a hit. And maybe the lucky job recipient will get to untangle people's headphones in the off season?
But the fact of the matter is that it is not only our lights that are tangled. Our whole lives are. All of it. And of all of us.
All have sinned and fall short of the glory of God,
Romans 3:23
And our tangled lives plead for an Untangler.
Be gracious to me, O God, according to Your lovingkindness;
According to the greatness of Your compassion blot out my transgressions.
Wash me thoroughly from my iniquity And cleanse me from my sin.
For I know my transgressions, And my sin is ever before me.
Against You, You only, I have sinned And done what is evil in Your sight.
Psalm 51:1–4
And God heard that plea!
It is a trustworthy statement, deserving full acceptance,
that Christ Jesus came into the world to save sinners.
1 Timothy 1:15
Jesus came … to untangle lives!
Have a blessed Christmas!
SOURCES:
Metro.co.uk; Mashable