Wisdom?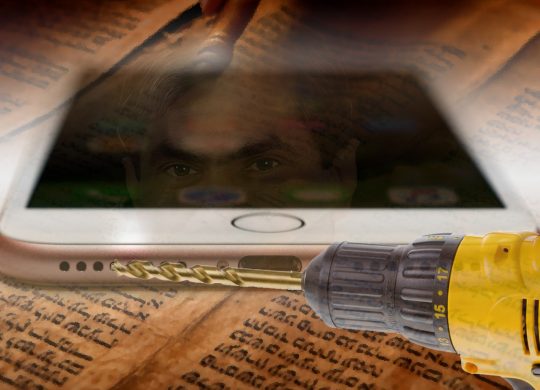 One of the biggest changes in the smartphone universe is the absence of a headphone jack on Apple's latest iteration of their communications device, the iPhone 7.
But help is on the way for the desperate.
YouTuber TechRax uploaded a How To video the other day:
Wassup guys! TechRax here. So lot of people have been complaining recently that the new iPhone 7 lacks the headphone jack, something that's been on every generation model iPhone. It's not there any more. … So I found a perfect solution to this problem, guys. It's a very simple tutorial. Just follow along, guys. I don't even have to talk here, so …."
Well, TechRax takes an iPhone 7, clamps it between the jaws of a vice and—get this!—proceeds to drill a hole in the bottom! Yup, you can see him do it. Squealing sound of drill and all!
And just like that, guys, you have your brand new fully built 3.5 mm headphone jack, and, best of all, you can take your headphones—the ones you've always loved and known—you plug it in, turn on the iPhone, you swipe, you play your favorite song, and you enjoy the music!"
As of today, this video has had 8,447, 578 views! But what impressed me were the comments.
James Ceja lamented:
I tried this and ended up with display destruction and it not working,,, I really commit biggest mistake of my life by watching this video,,,,,,,:("
David Iriarte was surprised:
A friend of mine told me it worked for him, but my iphone won't turn on after I drill the hole for the jack. I checked and it was the 3.5 mm drill, so I made no mistake there!! What happened?? Any of you have the same problem?"
toekneehair pled for help:
Ok I am sure it's in the comments somewhere but my friend told me to ask what size drill bit am I supposed to use? Also I don't have that clamp thingy, can I or my friend hold it while we drill? I don't want to ruin my phone. Thanks for all the help guys.."
ItzAwesomeus was polite:
Im hoping u could reply im not hating or anything (quick thing) that hole wont work cuz it need cables and motherboards and things in order to adapt headphones so u basically made a hole in an iphone for decoration. I wasent hating just saying the truth.
But Dominic Tesla was merciless:
It worked for me, don't know what you idiots are complaining about. Just buy another iphone and try it again, I promise it works. You might have to try like 4 or 5 times until you get the hole in the right place. Or just put the drill to your temple, there's actually a secret headphone jack there as well that most people don't know about. Wipe the skin clean with a little alcohol first to prep, then keep drilling just until you lose consciousness."
Luke Hill spoke for the rest of us:
WHY ARE PEOPLE BELIEVING THIS? 85K PEOPLE DISLIKED THIS VIDEO! ITS A JOKE! NOT REAL. I honestly worry about mankind after this. ☹☹☹
Now you can never be sure about YouTube comments. But, nevertheless, we are a gullible people in need of great wisdom.
That commodity, the Bible tells us, can only be found in God and his words.
For the LORD gives wisdom; From His mouth come knowledge and understanding.
Proverbs 2:6
Seek God …
For wisdom will enter your heart And knowledge will be pleasant to your soul.
Proverbs 2:10
Leave your iPhone alone!