Watched!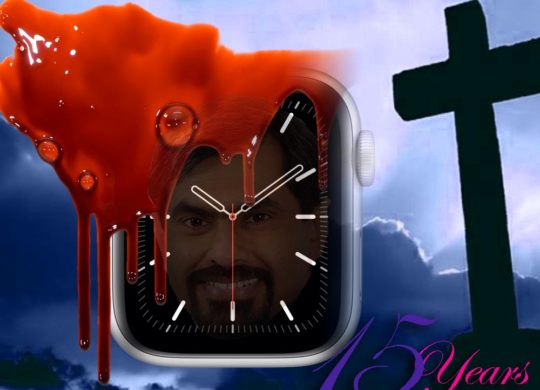 A West Bloomfield, Michigan, dude, Sean Samitt, 26 claimed to have been the victim of an anti-Semitic stabbing outside his local synagogue, police revealed the other day.
Samitt reported that he was attacked and stabbed in the abdomen by an unknown man in the parking lot at the Temple Kol Ami, where he worked as a cantorial soloist (and music director). He told police that he was confronted about 7:00 p.m. as he was leaving work by a white male in his late 30s to early 40s. Samitt claimed a man shouted anti-Jewish slurs at him outside the synagogue before stabbing him with a knife. Samitt apparently fought off his attacker and drove himself to hospital.
The police searched the parking lot for weapons, blood, or any piece of evidence, but without any success. K-9 officers were also involved, but in vain. Nothing remotely suspicious at the scene.
Suspecting Samitt's wounds were self-inflicted, officers obtained surveillance footage from a house across the street and confirmed that no assault took place.
That's when the cops turned to a most unusual witness: Samitt's Apple Watch. That reliable device showed that Samitt's heartrate was normal when he said the attack happened. But his pulse was running high before the purported event.
Samitt then changed his story. He admitted to making up the attack and said he lost consciousness and accidentally stabbed himself while he was washing dishes at the synagogue. He said he lied about the incident because he was being harassed at work about his medical condition.
But that story also sounded odd. So, once again, our star witness was summoned. Samitt's cellphone's health app that was synced to his Apple Watch confirmed the man had not lost consciousness.
Samitt tweaked his story again. He confessed he had intentionally stabbed himself.
While searching Temple Kol Ami, detectives found bloody tissues in Samitt's office and the men's bathroom. They also located a knife in the kitchen area with blood on the tip of the blade.
Samitt, needless to say, is now a former employee at Temple Kol Ami.
Said Carolyn Normandin, Regional Director of Anti Defamation League Michigan:
We are very disturbed to hear of incidents like these. Not only is it a crime to file a false police report, but those who commit such acts take vital resources away from the folks who need help from law enforcement."
Sammit's self-incurred knife wound minor; it did not require stitches. But he now faces felony charges.
Rabbi Asher Lopatin made a perspicacious comment:
We all have to think about the actions that we do and so these little imprints whether on his phone, his watch, or a camera, it just really shows every action we do isn't going to go unnoticed."
Indeed! Because there is a God who—pardon the pun!—watches!
At all times:
O Lord, You have searched me and known me.
You know when I sit down and when I rise up;
You understand my thought from afar.
Psalm 139:1–2
All things:
You scrutinize my path and my lying down,
And are intimately acquainted with all my ways. …
Behold, O Lord, You know it all.
Psalm 139:3–4
In all places:
Where can I go from Your Spirit?
Or where can I flee from Your presence?
Psalm 139:7
Because he is the Creator:
For You formed my inward parts;
You wove me in my mother's womb.
Psalm 139:13
But this is no heavenly policeman watching—it is a loving Father!
How precious also are Your thoughts to me, O God!
How vast is the sum of them!
Psalm 139:17
SOURCES:
SlashDot; National File